Aline Von Moerbeke
Permaculture Design Course facilitator and Diploma tutor, living the permaculture life in Catalunya, Spain and on the Balearic Islands.
Permaculture Design Course facilitator and Diploma tutor, living the permaculture life in Catalunya, Spain and on the Balearic Islands.
Experimenting with low footprint living and covering our basic needs in a Mediterranean climate. Flemish born but residing in Spain for more than half of my life, a Certified Permaculture Facilitator and Diploma Tutor. ​Resident in Mallorca since 2000, I have been job-hopping ever since I arrived on the island. After a good few years on a sailboat, the return to the land made me reflect on minimalizing and degrowth.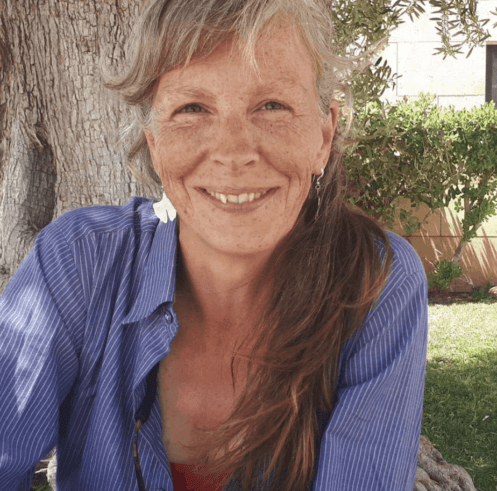 As easy as it was on the boat, so difficult it seemed to live in a house with all the creature comforts: no need to think about where and how you will store food, where you will get clean water from and where your dirty water will go. There I began my search for sustainability, starting with the vision of wanting to green my then job as a real estate sales director and hence setting up my "Eco-Inmobiliaria" Home Sweet Homes Mallorca.
Taking bio-construction courses with Eco-Union and Gaia EDE, I got to know Permaculture in June 2011 and this fact was the starting point of an eye-opening whirlwind of a journey! Coincidentally I also had a first client for my "eco real estate agency", Christer Söderberg, who instructed me to find a site for a possible ecovillage for him and his Open World Villages Foundation. A Permaculture Designer Course (PDC) certified by Richard Perkins, Darren Doherty and Julio Cantos organized by Christer in October 2011, a volunteer's position on the World View dimension of the Gaia EDE course in November 2011, and the co-founding of the not for profit association PermaMed in December 2011 were next. My pathway with PermaMed has been a beautiful voyage and a collection of many learning experiences that have made my life a pleasure to live and an honour to receive trainings by the hands of the most inspiring people like Julio Cantos, Rosemary Morrow and Robin Clayfield. Having left the world of tourism and business, I am particularly interested in "Social/Economical/Political Permaculture" or "Invisible Structures".
The different models of economics, various styles of leadership, the intrinsic interdependence of humans, conflict transformation, the Ethics of Caring for People starting with oneself, the relationship between the soil's health and our own microbiome, holistic management as a decision-making tool in your projects and your personal life and transformation of behaviour needed for adaptation make my ears buzz and my heart jump, among other facets of Permaculture. I combine the implementation of a permaculture design in the demonstration project "Can Cabra Casa Integral" (Vallalta, Maresme, Catalunya, Spain) and tasks in the PermaMed association with my work as a hiking & eco-tourism guide, Diploma tutor, online PDC course facilitator, PC CoLab translator and networker, Bridgebuilder and Communications collaborator in the national Permacultura Íbera network. Besides these very rewarding activities, I am a lifelong student and am enrolled in Naturopathy, Nutrition and Californian Massage courses.
I would just love to have a spare 24 hrs a day to keep many projects moving and feel the energy of people truly connecting, but at the same time, I am very much aware that Activist Burnout is real and might well come back to haunt me if I don't design for my Inner Landscape. Hence my priority is my Daily Practice and Slowing Down to the Speed of Life (excellent book!), which then makes for a much clearer mind and more effective working! When phenomenology or synchronicity knocks on my door, I know I am "working with nature, rather than against it"! Enjoying every minute of it, grateful for the here and now!
Want her to be your mentor?
Request her during orientation when you enroll in our Permaculture Design Course.