Penny Krebiehl's work is focused through Northern Michigan Permaculture, O'k Art & Design and the educational non-profit, Little Artshram.
Penny is a life-long Michigan garden-farmer, woods-wanderer, and arts educator. She has been educating and consulting as a Certified Permaculture Designer since 2005, and is a graphic-recorder for courses and presentations.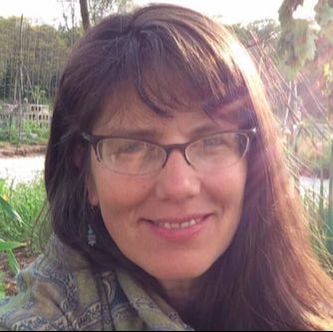 She lives in a beautiful place in Northern Michigan near Lake Michigan with her cat Rosalina Falling Star. She is a content woman who has worked long hours in many different service oriented jobs throughout her life, in order to be able to do the other passionate and full-time work of an artist, garden-farmer and non-profit, educator and founding directress. Penny is a grandmother to a delightful little girl named Josie, and a parental unit to Allison, and a talented, musical son, Zachary.
They are a good part of the reason she does what she does. Penny is the Founder/Directress at Little Artshram, established in 1991, in Lansing, Michigan (Originally as Greater Lansing ARTSPACE) which inspires and educates people of all ages to live creatively in harmony with nature, through a unique combination of permaculture education, visual, musical and puppet artistry, service to the natural world, and inclusive social activism.
Permaculture Education For Children & Youth & Families is a project supported by Little Artshram creating a platform for discussion, and designing learning opportunities, for the development of an emerging permaculture pedagogy and educational curriculum and guide for children, youth and their families. Little Artshram programs and projects also have included: Annual Earth Day Parades, Summer Camps, OUTLOUD! Girls Group and Artist and Permaculture Apprentice Programs for ages K-12; Permaculture Design Courses, Teacher and Apprentice trainings for Older youth and Adults.
Penny is the lead Designer and Garden-Farmer at Ok CSA Design, which has created a Youth-Market Garden program, and CSA Cooperative since 2008, and focuses on permaculture design through garden-farming practices. O'k Design offers Graphic Facilitation and Visual Recording services www.pennyokart.com.
Penny is Co-founder of Northern Michigan Permaculture, a regional forum to share resources, workshops, PDC's and permaculture opportunities in the Northern Michigan and Great Lakes Bio-region. Penny co-organized the first-ever Michigan Permaculture Convergence in Brighton in 2013, and is one of three co-founders of the Great Rivers and Lakes Permaculture Institute serving on the board through 2017.