Marit Parker from Wales, has been learning about permaculture for over 25 years, and applying it not just to farming but also in her work tackling inequalities and social exclusion, such as:
Enabling adults with learning disabilities to design and write a newsletter, organise and speak at meetings and make short films.
Founding and running an accessible gardening project with an EasyRead constitution so gardeners with learning difficulties could be Trustees, and innovative designs for raised beds created in collaboration and close consultation with gardeners with disabilities and sensory impairments
Supporting families and young people facing homelessness.
Assisting people with disabilities with the compulsory reassessments of their disabilities brought in as part of "austerity"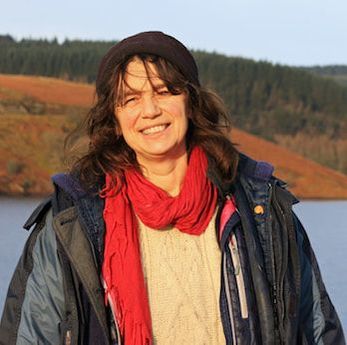 She has been part of the co-ordinating group for Paramaethu Cymru / Permaculture Wales since 2011 where she has worked to ensure it's a bilingual organisation that places equal emphasis on all three ethics and recognises Wales' long history of campaigning for peace and for social and environmental justice. This has included:
Working towards a network that highlights people and projects working towards social justice and equality (people care and fair shares), not just land-based projects.
Working with the co-ordinating group to introduce a sociocratic approach to the co-ordinating group and to Paramaethu Cymru as a whole.
Being part of a team of bilingual organisers and facilitators at annual national gatherings.
Facilitating workshops and discussions national gatherings on topics including Decolonisation, Housing, Rootedness and Welsh culture.
Organising and being present at an interactive display about sustainability at the Eisteddfod Genedlaethol / National Eisteddfod 2012. Over 700 people visited the display.
Permaculture-wise her learning has been largely autonomous. She has learnt valuable skills from neighbours and other friends who are gardeners, farmers and conservationists through listening, watching and doing. Much of her knowledge about tackling prejudice and working for equality and social justice comes from listening to some of the many articulate members of People First, a self-advocacy organisation run by and for adults with learning difficulties.
Her teaching experience includes working with a Welsh-Palestinian team alongside Mohammed Saleh from Palestine and Alice Grey, who lived and worked in Palestine for several years before returning to Wales. Together they organised, facilitated and taught a PDC subtitled "Resilience, Rootedness and Global Community". This included sessions on Social Justice and on Decolonisation which Marit facilitated.
​She is studying (slowly) on a postgraduate course in Outdoor Environmental and Sustainability Education.