Oklahoma, USA
Top 3 Areas of Expertise
Works daily with Permaculture Designs
Organic Market Gardening
Environmental Justice Activist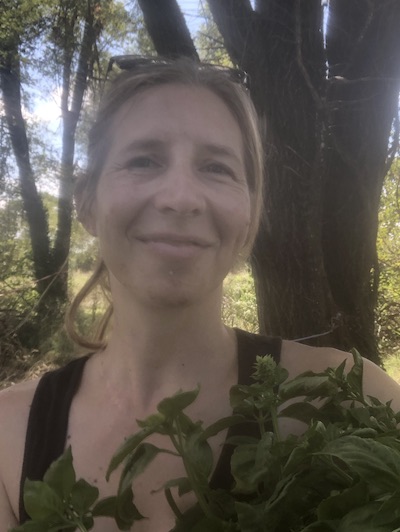 Advice for Students
"Print out a lot of copies of a satellite map of your site, with grayscale and somewhat transparent. As you're going through the course content, mark those papers up with copious observation notes (and problem areas and design ideas) so you get used to scribbling and being graphic-oriented."
Teacher Bio
I'm most familiar with moderate wet climates like Washington/Salish Sea (where I'm from) and extreme continental climates like Oklahoma/Osage lands (where I am now). I have family in Hawai'i and love helping in gardens there, but I've never lived in the tropics. I learned how to design in small urban spaces and find it serves me well (productive gardens close to the house) even though I have more space now. I can definitely think through broadscale systems like those important in my region: for ranching, agroforestry, hedgerows, riparian areas, etc
Everyday I help people clarify their designs, and I love it (and I love designing!). I really want to understand your site and the context, and you'll learn how to organize your observations into a narrative that tells the story of your site. Then, we play with design solutions (that are usually obvious by then, though I'll help with tips based on my experience with different systems). Before we end our time together, I'll make sure you have actual tangible steps laid out for your success, whether on your own personal site or in doing designs for others. I'm also a single sole-custody mom, so I get the trickiness of setting aside time and juggling priorities!
I also work with OSU's Permaculture program, and am a Field Advisor with PINA and Starhawk's RLM Program.
I teach full in-person Permaculture Design Courses; I've earned PINA's Diploma of Site Design and Diploma of Education.
I run an Organic market garden, sell food and herbs. I've installed many different permaculture sites! (community gardens, food forests, as a renter, leading workparties, guerrilla gardener, etc).
Happily serve indigenous-led environmental justice efforts (LEAD Agency), whether through serving on the Board, bringing my Permaculture lens to projects, or just running errands.
Recent Articles
Hourly tutoring rate: $100. Offers full or partial scholarships and work-trades.
Typical response time: within a week.