Kareen Erbe
Jennifer English Morgan serves as a farmer, healer, facilitator, designer, project manager, and life coach. Jennifer helped create Gaia University in 2006, where she helped create the Diploma in Applied Permaculture Design and developed and offered the 120-hr Advisor, Mentor and Life Coach Training.
​Kareen Erbe owns Broken Ground, a permaculture education and design business in Bozeman, Montana, USA, that teaches people how to grow their own food and become more self-reliant. She has taught hundreds of people through her workshops, both live and online, and offers consultations and permaculture design services. She and her family live on a ¾ acre suburban homestead with large kitchen gardens, a food forest, a greenhouse, a pond, and chickens. Kareen has written articles for Rocky Mountain Gardening Magazine, Montana Parent Magazine, Distinctly Montana, Edible Bozeman and hosts a blog at her website.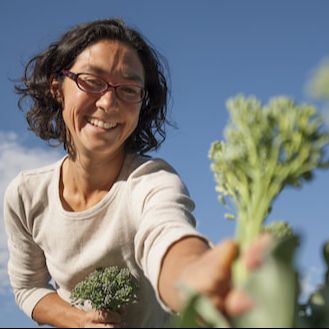 Kareen has a Bachelor of Science in Environmental Science from Queen's University in Kingston, Ontario, Canada and is an experienced permaculture practitioner. She obtained her Permaculture Design Certificate in 2006 and completed an advanced permaculture program taught by designer Geoff Lawton, at the Permaculture Research Institute of Australia. This included specific training in earthworks, composting methods, soil biology, and urban permaculture design. Kareen also has a Permaculture Teacher Training Certificate from Rosemary Morrow, author of the Earth User's Guide to Permaculture.
In addition to a Master Gardener Level 1 and Master Composter Certification, Kareen has training in Ecology Action's Grow Biointensive methods and participated in a Food Forest Design Charrette with author, teacher, and designer, Dave Jacke. She has also worked as a permaculture consultant for the sustainability organization, GoodtoChina, in Shanghai, China and volunteered on numerous organic farms in Australia, New Zealand, Western Massachusetts and Montana. Mostly recently, she has been teaching with Jerome Osentowski, author of Forest Garden Greenhouse and founder of the Central Rocky Mountain Permaculture Institute.
She founded her own business, Broken Ground, in 2011 and has taught hundreds of people in Montana about gardening and permaculture. She and her family live on a ¾ acre suburban permaculture homestead with large kitchen gardens, a food forest of fruit trees and berry bushes, a greenhouse, a pond, a cob oven, and chickens.
Kareen has contributed to Rocky Mountain Gardening Magazine, Montana Parent Magazine, and Distinctly Montana, and was featured in The New Pioneer. She has an online course platform at brokenground.teachable.com.
Contact Kareen through Broken Ground's:
Contact info:
Kareen Erbe
Broken Ground
info@brokengroundpermaculture.com
406.600.7881
Recent Articles
Want her to be your mentor?
Request her during orientation when you enroll in our Permaculture Design Course.