Mandy Merklein was born in New York but was raised in Europe, first in Germany and then Mallorca, Spain. She began exploring permaculture in early 1980 when completing her thesis at Wells College with support of her advisor, Tom Vawter, who encouraged her to pursue a new cross disciplinary major in environmental studies.
She graduated with honors, continued wildlife studies at University of Washington, and worked as a field biologist and environmentalist in the Rocky Mountains, Alaska, Pacific Northwest, South Pacific, Australia, South America and Europe, collecting biological data and learning from living in nature.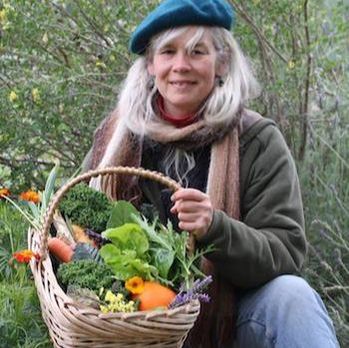 Mandy started gardening and urban homesteading and applying permaculture principles more coherently in her life in the early 1990s when she had access to land in a community garden and was able to grow most of her own food. In 2000, as a homeschooling mother, she became involved in conservation efforts with communities in the Pacific Northwest watersheds and along the coast.
She is a founding member of the Pacific Marine Conservation Council, the PMFC Flying for Fish watershed outreach and education program, and the Association of Professional Observers which helped unionize biological field observers. After working for the, NOAA Marine Mammal Lab she began an environmental consulting LLC, Community and Ecology Resources (Co-Eco), with her husband. Their clients have included national, state, and local government agencies, non-profit conservation groups, tribal governments and associations, and private and for profit businesses both in USA and Europe.
Mandy and her family moved to Mallorca in early 2000 to care for her mother and be closer to her extended family. Here she started a community garden, and a children's permaculture club. She became involved with the Slow Food movement, and Poc a Poc, a transitioning to sustainability group on the island. She co-facilitated the frist Gaia EDE on Mallorca with May East and Daniel Wahl. Mandy received her PDC from Darren Doherty, and her teaching certification from Rosemary Morrow.
She is fortunate to have studied with other inspiring teachers such as Robin Clayfield, Robina McCurdy, Starhawk, Looby Macnamara, Rakesh Rootmans Rak, Rob Hopkins, Satish Kumar, Vandana Shiva, and local mentors such as Julio Cantos, Miquel Ramis and Alfred Decker. She is currently completing her permaculture diploma with Rosemary Morrow. Mandy is a founding and active member of Permacultura Mediterranea (PermaMed.org), Youth in Permaculture, Gaia Youth, Community and Ecology Resources, and Escola Kumar, a permaculture education demonstration site, where she lives, practices, and shares permaculture with her family, friends and students.
Mandy designs and implements projects, sites and curriculum and facilitates workshops on permaculture, with her fellow permaculture community. She also has fun working with youth through the Permaculture Pathway Program, solar cooking, gardening, playing music, photography, and exploring zone 5 in the mountains and off the shores of Mallorca.