A Flamenco and Classical Spanish dancer, professionally active up until about five years ago, Meiling was born in London, and spent most of her childhood on tour with her parents, who were dancers. Being part of a multi-ethnic family, coupled with their semi-nomadic bohemian lifestyle and a mostly homeschooled education, made sure she grew up with a broad perception of the world.
Her Permaculture journey started seven years ago, probably sparked by the deep awareness of how bleak her children's future was if Humanity were to continue on its present course.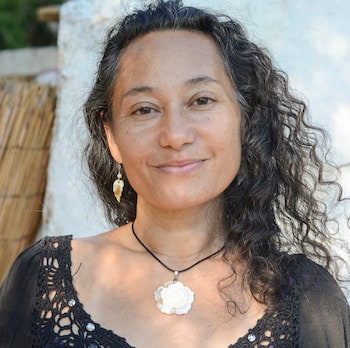 In her search for stability she had joined the system work market and had been struggling to balance work, home, and personal internal landscape, with little success.
Starting with the very basics in a community garden, the Permaculture Ethics, Principles and general concepts weaved themselves into Meiling's life, and that of her family. Undertaking her first PDC in 2015 as a joint family project alongside her husband and eldest son, Permaculture has since become part of their social and ethical structure
From Agroforestry courses with Julio Cantos, Bioconstruction with Miquel Ramis, Social Permaculture with Rosemary Morrow and Robin Clayfield, to Transition with Juan del Rio, her journey has been peppered with immensely inspiring studies and wonderful teachers. The family are part of several Permaculture projects around the island, and have co-facilitated the two last PDCs offered by PermaMed on the island, as well as several workshops and courses.
​One of Meiling's objectives now is to create sustainable environments that help society to Heal, and allow holistic development for future generations. In this path she is fortunate to be able to count with the support and help of PermaMed and the community network being built on the island of Mallorca, Spain.