Argentina born Silvia Di Blasio came to permaculture and the regenerative movement after many years as a teacher, facilitator and social justice advocate. While she has a long-time affair with planet Earth (actually, since she was a wee girl), and was involved in the scouts, rescue and disaster planning groups from an early age, she took a big detour studying psychopedagogy, computer science and career counselling. While there was always a food garden growing, social justice took the stage for many decades.
After many years of trying to change the system from within and figuring out she was further disconnected from her beloved Mother Nature, she came back in full speed.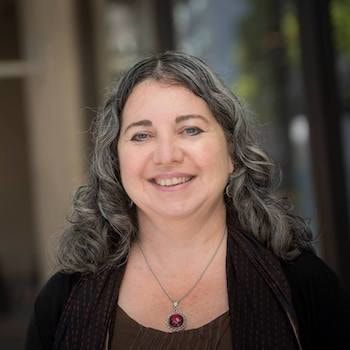 Her "formal" involvement with permaculture started very recently, in 2013 at OUR Ecovillage in Shawnigan Lake (BC, Canada) where she studied permaculture with James Richardson and Brandy Gallagher, permaculture teaching training with Jude Hobbs and had the opportunity to TA for both Jude and Starhawk. She also started a second PDC with Delvin Solkinson and Kym Chi from GaiaCraft, which opened the doors for yet another dimension of permaculture; finally, she also has an unfinished urban permaculture diploma and an unfinished advanced diploma in permaculture education and community resilience (Silvia cares more about the skills and experience than the certificate, which sometimes does not represent the former, so she put these on hold to dedicate to resilience building workshops instead).
​​​In 2018, she completed a one-year-long certificate in Sustainability Design, designing a blended program for regenerative livelihood design and a completed a Train the Trainers. Other studies and explorations include ecopsychology, ecotherapy, a one-year Work that Reconnects facilitator development, a diploma in adult education and online instruction and a training in the art of hosting and holding space coaching for individuals, groups an in complexity. She has also studied and/or collaborated with amazing permaculturists, healers and activists such as Javan Bernakevitch, Looby McNamara, Garliq Chevrier, Dawn Dancing Otter, Gracelyn Lau, Jane Rasbash, Heather Jo Flores and many others.
She's currently part of the roster or certified design for sustainability trainers, which gives her the chance to facilitate both in-person EDE's (Ecovillage Design Education) and the five online modules for sustainability design (social, ecological, economic, worldview and design studio) at Gaia Education and GEN (Global Ecovillage Network).
Silvia likes to experiment the things she learns and advocate on her own life first, which gives deeply the experiential dimension layer to all she teaches.
​She specializes in different areas:
Design for disaster and resilience (including emotional/spiritual ones, deep adaptation, Good Grief and modified resilience circles);
Food sovereignty (including permaculture and food preservation methods;
Inner and social permaculture;
Community economic development/livelihood and education,
Curriculum design and facilitation.
In the day-to-day she works as a certified career and life coach, helping immigrants and refugees to build a new life in Canada. This may include crisis intervention, educating and advocating for employment standards and human rights, settling in Canada, getting a job or starting their own business. She offers food sovereignty workshops through the local university farm and twice a year, providing support and co-facilitating in the annual PDC or EDE as well as other events at OUR Ecovillage. She also works as a coordinator for the Work that Reconnects Network, based on Joanna Macy incredible work on inner resilience for activist and as a facilitator and eLearning consultant at Gaia Education for their Certificate in Sustainable Design.
In her spare time, Silvia facilitates local Deep Adaptation and resilience circles, tends to her small garden and blogs. Silvia latest adventure is to become an Earth priestess and help people to fall in love with this wonderful planet and themselves through brave inquiry and courageous engagement.
At the moment, Silvia is working with local and remote clients to help them do meaningful work in their organizations and communities.
You can contact her for:
Design for Disaster and Resilience:
full assessment, planning, designing and following up
Permaculture design mentoring
Food sovereignty workshops
Work that Reconnects and Resilience workshops
Regenerative Livelihood design and mentoringe
Learning consulting, design, implementation and supporte
Learning facilitation and moderation
Project coordination and assistance​
You can also find Silvia in these places:
Gaia Education certified trainers
Recent Articles