By Laura Bee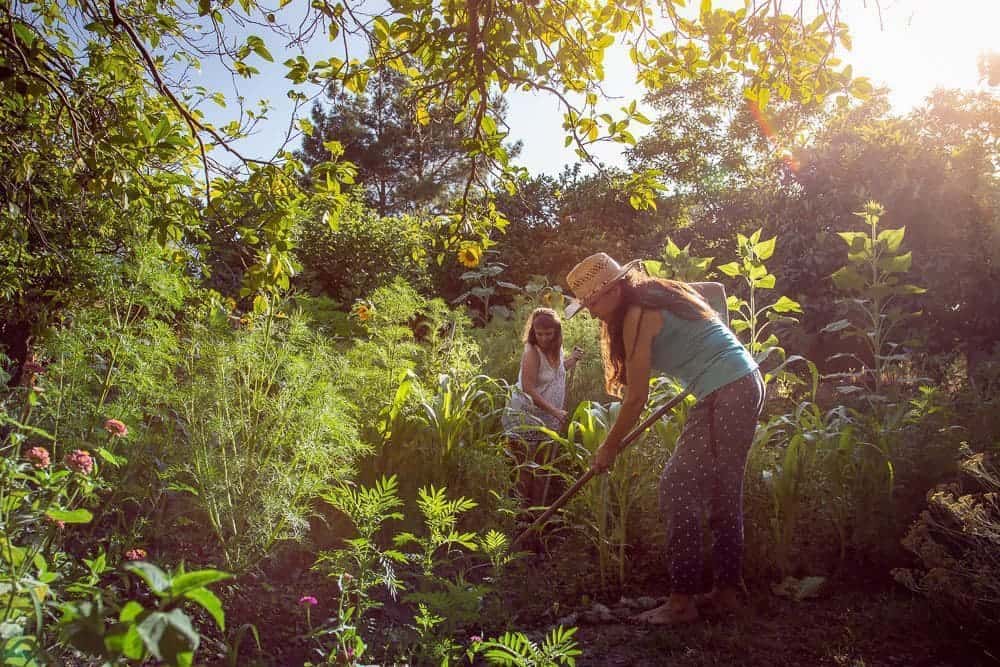 "The goal of the PWG is to hold space for women who choose to work with women, for whatever reason is real for them. We aren't asking permission to do this, nor are we seeking approval. We are simply, in permaculture terms, filling a niche that has been open for far too long". — Heather Jo Flores, founder of the Permaculture Women's Guild.
I started my permaculture journey in April 2016, shortly after leaving an extremely stressful full-time job. I left with a lack of confidence and a depleted sense of purpose. Around this time, my friend Charlie Gray invited me to volunteer at Horton Community Farm, a permaculture land project based in inner city Bradford.
In-between planting seeds, harvesting veg and spending time with a diverse range of people, I slowly learned what permaculture is, and why it is important. My permaculture journey so far has been fortuitous: I've been to a Yorkshire Permaculture gathering, took part in a heavily subsidised Permaculture Design Course in Marbella, Spain and have been a part of two youth exchanges — one in Serbia ("Get Growing Your Community"), and the most recent in Italy with Youth in Permaculture ("It's Our Future").
Although my journey has been amazing thus far, I have noticed from the beginning that men largely dominate the permaculture sphere. I have come across a number of "permaculture stars," all of them male. Whilst my PDC was a life-enriching experience, all of the teachers were male, and I was really craving some women role models and mentors. This is one of the reasons I am so happy to be a part of a Permaculture Women's Guild (PWG), as it places the female voice at the centre, and offers women a place to grow, learn and unleash their creativity. The women-led PDC is the icing on top of a delicious cake!
An example of men being at the centre of permaculture took place at a permaculture event I attended, where people were encouraged to organise themselves on a scale of "very experienced" to "very inexperienced" in permaculture. Almost all participants who placed themselves in the "very experienced" section were white men, some women were in the middle, but most were at the far end (including myself). The experienced permaculturists were then paired with the inexperienced permaculturists; it was like witnessing a microcosm of gender inequality. I knew some of the women; what they brought to permaculture and to life, and I could see that they were drastically underestimating their contributions and abilities. This lack of self-appreciation and valuing one's work is a symptom of patriarchy.
What's more, I (and other women) have experience of talking to men in permaculture circles about violence against women, in the hope of receiving solidarity and support. Sadly, on more than one occasion, I have received flippant responses. One man decided it was an opportunity to talk about how awful women can be, too. Another jokingly dismissed the importance of feminism by reminding me of the usefulness of men wanting to have a lot of sex, claiming it is "good for us".
Having men question the usefulness and validity of feminist and women-only spaces can be extremely draining. It is important for women to have a reprieve from this battle, and that men take time to learn about these issues in their own time, rather than continuing to expect women to educate them.
It wasn't until I learned more about the work that Charlie Gray does around social permaculture (influenced by Looby Macnamara's book People and Permaculture) that I realised people do care about the most important facet of permaculture: the people doing it! Before this, I'd spent months worrying about group dynamics, mental health, and not knowing if I had a place in permaculture.
Looby Macnamara's and Maddy Harland's "Empowering Women in Permaculture" course and Heather Jo Flores' "Emotional Permaculture: Designing your Inner Landscape" course brought these anxieties to the fore, and helped me to release some of them. I couldn't have done this if I wasn't surrounded by women also craving a space where healing and transformation could take place.
Offering a safe, inclusive Permaculture Women's Guild, in which the gender imbalance can start to be redressed, and where women can learn, thrive, heal and grow in confidence, is an important step forward for permaculture.
This desire for change is not new. Karryn Olson-Ramanujan has shed a bright light on women in permaculture, as evidenced in her article, "The World Needs an Anti-Harassment Movement: So Does Permaculture".
Pioneers such as Looby Macnamara and Maddy Harland (author of Fertile Edges) continue to hold women only spaces where people can take a break from (and talk about) emotional labour, and feel nourished and supported by the women around them, both in person and online.
The Women's Guild is an intentional community offering a sanctuary from emotional labour, burn-out, criticisms, and domineering men. It is also a learning hub, where women can share (and exchange) ideas, inspire one another and lead by example, without leaving anyone behind.
All of the women mentioned in this article are teaching in the Permaculture Women's Guild's Online Permaculture Design Course with Advanced Training in Social, Emotional, and Cultural Transformation.
I hope to see you there!
Laura Ann B is a writer and permaculturist. Her jobs include supporting people with learning difficulties, co-running Horton Community Farm, and proofreading for Permaculture Magazine.