A woman and her father gathered their know-how, investments and time, and turned 90 acres into a lush edible forest. Here's their story.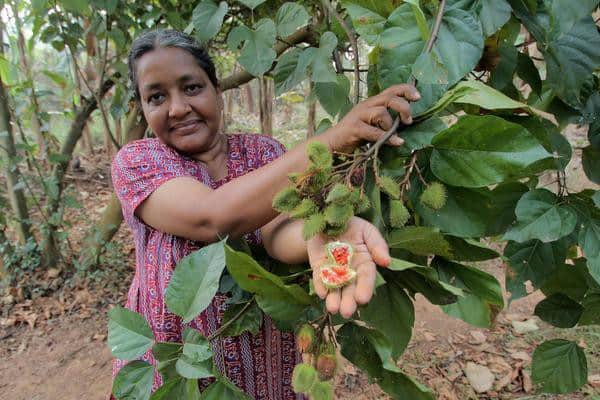 "Every expert we met discouraged us to take up this mission. No one believed that we could revive such a wasteland through organic methods. But, we made the impossible eventually possible."
A piece of land in Odisha was deteriorating fast, after decades of soil abuse from pesticides, fertilizers and deforestation, it was thought impossible to regenerate it. This father-daughter duo thought that was highly likely to regenerate it with the right measures.
Broadly speaking, we've seen this happen a lot of times, but this is a special piece of regenerative history: from nothing, they've built a seed sanctuary, grounds for teaching organic farming to the local farmers and, not only that, they've reduced immensely the harm done to a rich and biodiverse part of the country.
This part of their land was reduced to a massive wasteland, it was left barren and abandoned. Odisha was poor, reduced to nothing, and after their arrival, it is now a big hub for regenerative and solidarity economy-based eco-tourism in India, where the profit reverts to the local population instead of corporations.
So, how did they do it?
They first focused on the local agriculture traditional regenerative methods of planting what is in the area: rice. Now, they have hundreds of different species of rice and a seed bank to save them all.
In the meanwhile, they rebuilt the soil with heavy mulching. They separated the land into what was the organic rice plantation (a small portion) to the rest being an edible forest sustained by the local community and for the local community. People from all over the area come to help and be helped, learn and participate collaboratively in the project.
Sabarmatee and her father Radhamohan founded Sambhav, a non-profit which focuses on gender justice and regenerative agriculture. They started out in the 80's, fighting against the mistrust from the general public and academia about traditional regenerative agricultural practices. Radhamohan's connections to policymakers and academia helped bring to the forefront of Odisha the much-needed attention to the needs of regenerating the land and focusing on the well-being of its people.
They started by growing legumes, which spread rapidly. They relied on the heavy presence of ants to build tunnels which helped with irrigation, adapting with their very nature and helping natural presence, proving people can work together with nature for the betterment of regeneration. With the help of the ever-so-reliant seed dropping birds, trees began to sprout on their own, starting what is now a very lush and green forest.
In the early 90's there was periods of heavy rainfall, which allowed the support for their mango trees. By now they had only 2.5 acres reserved for rice. They now own 500 varieties of rice in their seed bank. And the land? Over 1000 species of plants.
"Creating topsoil was the real challenge. We stacked leaves and crop waste and allowed that to decay. Gradually, it became topsoil that was cultivable"
Their seed bank is home for 700 varieties of rice and vegetables, all indigenous and organic. They started an "Adopt a Seed" initiative, which allows the local farmers to have seeds for free, with the added caveat that they propagate and popularize them, saving the seeds from outer manipulation and extinction. These are amazing seeds for arid environments with water shortages.
"Seeds have life. They have to be cultivated regularly,"
There is still a lot of work to be done in Odisha, says Radhamohan. There is still a need to explore more organic measures and sustainable ways to sell produce, and to bring the attention to regenerative practices all over the area.
Despite that, Odisha is now home to eco-turism and eco-villas, based on solidarity economy, and regenerative practices are widespread throughout the area and people flock there to feel more in tune with natural practices.
Thank you Sabarmatee and Radhamohan, may you serve as inspiration to many more.