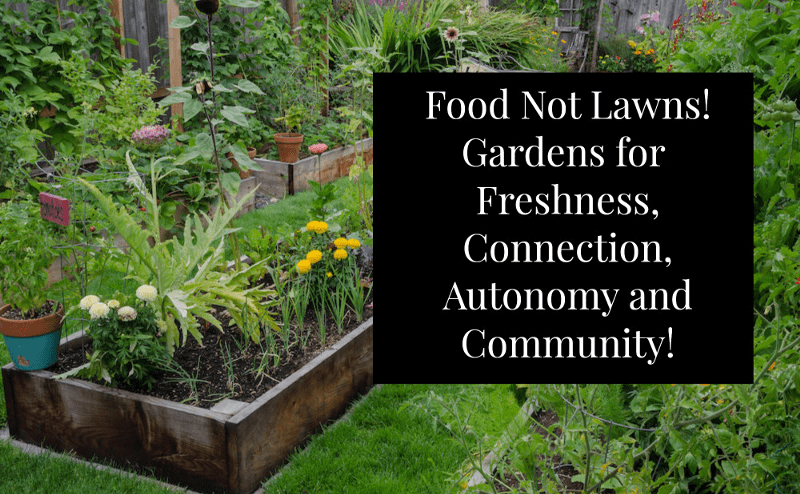 and your neighbor's front yard…and the local park…and…and…
​Lawns use more equipment, labor, fuel, and agricultural toxins than industrial farming, making lawns the largest (and most toxic) agricultural sector in the United States, so grow food, not lawns.​
Growing food at home is hardly a new idea. But in this culture, where more people know how to take the perfect selfie than how to grow a potato, urban agriculture has become a form of activism. The slogan "Food Not Lawns" is spreading like wildfire.
Here are some reasons why to grow food not lawns:
​Lawns are the largest agricultural sector, covering more than 40 million acres of land and consuming more than 800 million gallons of fuel each year in the U.S. alone, according to Duke environmental professor William Chameides. The cost of organic produce is prohibitive for many families. Growing their own gives them access. Eating fresh produce improves health and increases vitality. Gardening brings a family closer together and sharing surplus produce, seeds and plants builds community with neighbors and fellow gardeners. Growing food creates a sense of empowerment and gives gardeners the feeling that they have control over their food supply.
These are just some of the ideas that sparked the Food Not Lawns movement. I started the original Food Not Lawns organization in 1999 in Eugene, Oregon. Three of us who cooked for the local Food Not Bombs chapter started calling ourselves Food Not Lawns and hosting workshops in our garden. Our vision was to share seeds and plants with our neighborhood, to promote local awareness about food security and to learn about permaculture, sustainability and organic gardening.
Within two years the project had expanded to include dozens of gardens around the neighborhood, and Food Not Lawns was rewarded with a Neighborhood Development Grant from the city of Eugene. From there, Food Not Lawns continued to blossom. Now, 20 years later, Food Not Lawns is an International network with more than 50 local chapters and has spawned countless associated projects around the world.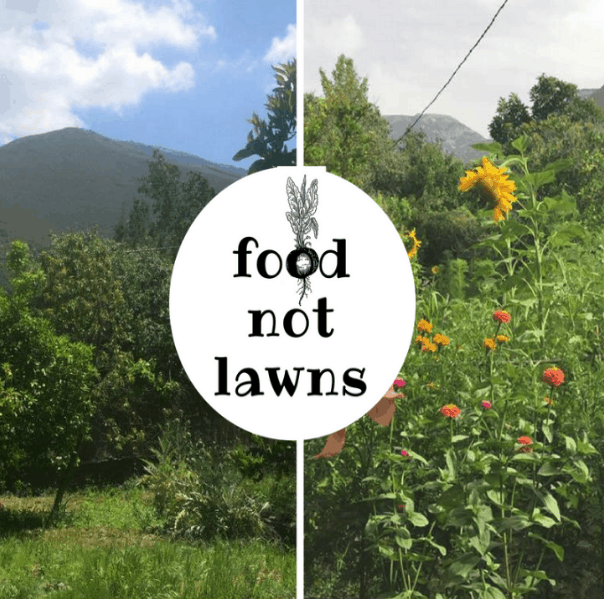 Here are some of the most frequently asked questions that I get from people who want to turn their lawns into gardens:
How do I get rid of the grass to grow food not lawns?
There are a few options, each with pros and cons:
Sheet mulching.
Sheet mulching is a technique where you cover the grass with cardboard and then pile on organic matter — straw, leaves, food scraps, soil. It's basically like building a wide, short compost pile all over the yard. The top layer is covered with fine mulch and then nursery plants and seeds can be planted directly into the mulch. This is the preferred method of most permaculture aficionados, as it is the least harmful to soil communities and can be a quick way to build up garden soil for growing food. However, sheet mulching can pose multiple problems.
If you have the kind of grass that spreads through underground rhizomes, there is a good chance those roots won't die under the mulch, and will eventually create a hard-pack of thick roots that your plants won't be able to penetrate. Also, the piles of un-composted materials can tie up nutrients and make it hard for your veggies to thrive.
Garden boxes, aka raised beds.
This can be a great way to build gardens quickly, while still maintaining paths and patches of your lawn. Spread a layer of landscape cloth or cardboard on the ground to suppress the grass, and then build boxes in any shape on top. Fill with organic garden soil and you're ready to plant. This is a great technique for people who have back problems and prefer to garden in beds that are up off the ground. Problems with garden boxes include the continued growth of grass rhizomes, as I mentioned above with sheet mulching. Also, the soil in the boxes gets stale over time and will need to be replaced and/or amended. Garden boxes also tend to decay and fall apart over time, and will need to be repaired.
Roto-tilling (or hand-digging).
By far the most effective way for permanently removing your lawn is to dig off the top layer of grass and then till up the soil underneath. This presents a blank slate for designing your garden layout, and new plants will be able to send deep roots into the ground. Tilling can be problematic, however, if you have lots of rocks or toxic soil. Tilling also disrupts micro-communities in the soil, so it's important to mulch over the new beds with good organic matter. Once you've tilled and established a garden, you probably won't need to till again as long as you maintain the garden and keep the remnants of grass roots from re-establishing themselves.
Does it have to be in the front yard?
Of course not! In my opinion, the transformation of any lawn to a garden is always a good thing. However, growing food in the front yard becomes a statement to your community, telling them that you value homegrown food. Front yard gardens invite community dialogue, and bring fellow gardeners in the neighborhood out of the woodwork. Front yard gardens can also provoke complaints from the neighbors, however, so follow these four basic guidelines to help ensure those neighborly reactions are positive:
1. Be creative. Spend some time designing a garden that is beautiful and unique. Get some books on edible ornamentals and create a landscape people will see as a work of art.
2. Be consistent. Don't let the front yard get overgrown and unsightly. Keep up with weeding, mulching and pruning. Be ruthless with dead and diseased plants. If your energy for gardening wanes, scale back your plans and only grow what you can maintain.
3. Be charitable. Offer surplus produce, plants and seeds to your neighbors. Invite them to share in the harvest and offer to help them with their garden ideas. Neighbors who value you as a friend are much less likely to cause problems.
4. Be considerate. Understand that not everyone in your neighborhood will be as excited about growing food as you are. Don't leave piles of soil or cardboard in the driveway for weeks on end. Consider their needs and they will consider yours.
I'm overwhelmed! Do I have to rip out the whole lawn?
Not at all. In fact I recommend starting small. Remove a section of the lawn and plant a little bit of food or a herb spiral. Or remove the lawn around the edges and plant an edible hedge of raspberries and currants. Or just carve out a few circular spots and plant some peaches and figs. These small changes will provide a delicious inspiration for you and your neighbors, and when the time is right to take out the rest of the lawn, you'll be ready!
Want to learn more, post your pics, and get/give garden advice? Check out our Facebook group www.facebook.com/groups/foodnotlawns.official