We can use celtic wisdom and regenerative culture to deepen our connection with the Earth
As we seek new ways to care for nature and each other — let's grow our regenerative cultures from Celtic wisdom. When I researched for my recent novel The Swan-Bone Flute, I found out how people lived in Western Europe before patriarchy tightened its fist. My women characters resist the feudal overlord system as it gropes and grabs its way into their lives. I hope they inspire us to imagine our way out of the systems that grasp and choke us. We need to change our ways of living: let's tune in to our heritage of earth wisdom.
Telling folk and fairy tales to my daughters, I realised there is more in them than we often think. The girls wanted to hear their favourites 'again, again!' What spoke to them? They liked the ones where sisters worked together, roaming free in the forest all day … In the library, rummaging through history and archaeology shelves, I found deeper insights. Celtic stories touched me with their intimate care for the earth and her creatures.
We gardeners have dirt under our nails like our ancestors, but we may feel out of synch with our soil, our communities, or our history. Fortunately our ancestors chanted their love of Earth in poems and stories, and left traces of their Celtic wisdom for us to discover.
As we dig in our compost and delve into history, we can unearth our ancestors' wise ways.
We can use Celtic wisdom to deepen our connection with the Earth
Our precious Earth has never seemed so fragile as now. As we plant (northern hemisphere) or harvest (southern) or learn (everywhere), we bite our lips in anxiety about what comes next: 'restarting the economy'. Will this mean more destruction of our climate? Will we chop more rainforests, drill for oil in the Arctic, get fracked? What can each of us do to help our Mother Earth, when we feel so little and powerless?
Our first step is to feel in our roots our connection with the soil, plants and creatures. If your mental image of a Celtic bard is a druid with a droopy moustache — picture instead a person with bare feet in touch with the earth, watching the skies for feather and cloud, sniffing the wind for animals and plants. When the Welsh poets recited stories from the Mabinogion long ago, they described the princess of the giants as so beautiful that 'her palms and fingers were whiter than shoots of marsh trefoil against the sand of a welling spring.'*
In The Swan-Bone Flute, Hilda the travelling Celtic bard teaches the women to pay attention to the creatures they find in their compost and sing to them:
Run, Many-legs, run!
If I had a hundred legs like you,
We'd have a lot of fun…
Joy, Many-legs, joy!
My sister or brother, child of Earth Mother,
Many-legs brings me joy.
If we pay attention to the plants and animals we meet on our daily exercise, we understand our place as fellow children of one Mother.
When we feel in touch with Earth, whether it's hidden under a street or crumbled in our hands, caring for her becomes — natural. We share our love of plants and creatures with children, family and friends in an unselfconscious way.
Why does it matter how we relate to earth?
We're made of it! Soil feeds us; planet shelters us.
In the springtime ceremony in The Swan-Bone Flute, Seren the healer makes cakes as a gift for the field; Elder Edith blesses them; Oswynne tucks them into the newly ploughed soil, one at each corner of the field. They sing for our bright blossoming earth to have health and bear fruit in the embrace of the sun. This charm in the novel is based on an Anglo-Saxon field remedy (Æcerbot). Shall we follow that ritual? However we express it, we can feel thankful for our food.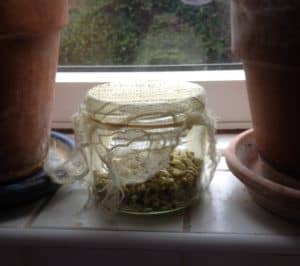 We feel grounded when we grow food in our own spaces, whether that's a windowsill for sprouting beans or a garden. When we express reverence for the land in artwork, poetry, story or song, like the poets of Celtic wisdom, we allow others to witness our affection and be touched by it.
We can bring kindness to our inner gardening too. So that we can start to grow our new world, we need to do some groundwork and planting inside ourselves. When we feel anxious, we reach out for help. If we find difficulties in relationships, we learn how to be assertive rather than aggressive. We learn to listen deeply, so empathy springs up. When we recognise weeds like blame and shame, we unearth them, tracing the roots back into fear. Then we find that the humus where fear grows is our deep love for life — our own and our loved ones' lives, for Mother Earth and all her creatures.
Finding our own habitat
If you feel lonely in your concerns, surrounded by people intent on tearing back into work and shopping, now is a great time to make new connections and friendships. We'll be making connections online now, hoping for more in-person work in coming months and years. Digital tools and skills will help us find our places to grow. We may need to prune our involvement in groups that don't nourish us. We can reach out our enquiries, like mycorrhizal tendrils, to find groups where we feel well supported and able to offer service.
The challenges of Covid-19 are giving us chances to build community. Those who are able-bodied may be shopping and fetching medicines for the more vulnerable. Perhaps the more tech-savvy can assist older ones to learn digital skills? These strange days also provide opportunities to practise setting boundaries on our helping, so that we remain healthy. If our assets are depleted, we could sink into depression or illness, leaving family and friends without us to rely on. Asking for help is a skill too, let's practise that!
I'm finding it hard to write, or even breathe, while my (adult) daughter is sick with Covid-19 in another town and I can't go to her. Many thanks to my friends who support me by caring and asking after her. It's helping me to tell you about it, thank you for being here.
Whatever groups you join, you can move between listening and finding out, into activity and support, when you feel able to. If your capacity is limited by disability, age or illness, you still count! Numbers of members and supporters give heart and heft to organisations working for change.
Who speaks for the wild?
Once we have our feet firmly on the ground, we can turn our attention to our communities and the wider world of politics. For many, our workplaces absorb all of our energy. In offices and services, people will make decisions that affect us all, in the months to come. Will we follow the Paris agreement?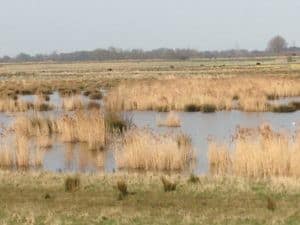 Every bit of work has an effect on the world — to help nature or destroy. So let's be the voices who speak for the wild!
When the people of The Swan-Bone Flute hold a meeting to discuss community issues, they invite groups to speak: women, men, young people — the slaves with their Celtic wisdom insist they listen also to the voices of forest and fen. Along come oak branches and bulrushes, with human feet sticking out from underneath. One little girl jumps out from her fern, waving, because she's too excited to stay in her place in the procession. Her older sister chants the plea of water to stay clean and clear. They call out the cries of all creatures who want to live and thrive.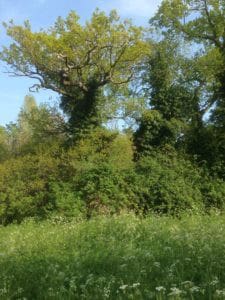 It takes courage to speak out, whether amongst neighbours, colleagues or strangers. When anxiety kicks in, it's too easy to slide into blame or shame. If we stay with our trembling selves, breathe deep into the belly and gently out again to calm our hearts, that jag of adrenalin can help us leap into activity.
A Celtic poet wrote:
A timorous, tiny, persistent little fellow
Sings at the top of his voice,
The lark sings clear tidings:
Surpassing summer-time of delicate hues! **
Even when we feel timorous and tiny, let's sing at the top of our voices for Mother Earth
– persistent and clear like the lark.
3 places we can use Celtic wisdom to cultivate our selves and flourish into community, ready to save the earth
These exercises can draw out our awareness and love of nature, so that we remember how precious and fragile the balance of species is, including us humans! As we garden our inner world, share with friends and family, we are cultivating the soil to grow new activities and visions.
Look close for intimate knowledge
∞ Connect with plants. What helps you do that? How can you learn their names, find out if you can eat them, discover their medicinal qualities? Do you like to just look carefully — you could draw them or take a photo?
∞ Get to know your bird neighbours, recognise their songs. What are they doing — eating, carrying nesting materials, feeding chicks? Are there any birds around at all? How can you attract them? Which ones can the young ones in your life name? Learn together.
∞ When you're growing food (not lawns!), remember that restoring the soil to health and fertility is a sacred activity, and good exercise, and it builds communities, and it's fun. Sing to a centipede today!
∞ Take care of yourself: when anxiety hits, breathe deep, stretch, and talk with someone you can trust to listen and not try to fix you. Do the same for her or him.
Look wide to find inspiration
∞ In the Navdanya Earth Day Communiqué Dr Vandana Shiva lays out the links between soil health, our human health starting in our gut microbiome, and the health of our planet. This magnificent manifesto shows what we need to do to save life on earth from extinction. How can we get there from here? If it seems daunting, since so much needs to be accomplished — fast — let's allow ourselves to be inspired and motivated to do something small or large today.
∞ Find out more about Active Hope and The Work That Reconnects from Joanna Macy
∞ Research national and international groups where you may be able to contribute to our new ways of living:
Extinction Rebellion is active in many countries — they are discussing future democracy, regenerative culture, many ways to create the social ways we need.
Transition Towns — this international network aims to equip us for the future right now.
Look local
∞ Is your local government council talking about climate change? Could you gather a group to inspire them to action?
∞ Find out about gardening groups, allotment groups, seed exchange groups …
∞ Is anyone creating sharing cultures? Work exchange networks? Local currency? Repair cafés?
What other groups can you find? I look forward to hearing about them. I'm off to take part in some planning with a group looking after our small community nature reserve. Because we love this beautiful place, we volunteer our time and energy. However, the group is a bit unwieldy and we all have scattered energy at the moment. Wish me luck, as I wish you all the best in your vital work.
Let's carry into the world with us the Celtic wisdom expressed in this
ancient Irish prayer, known as The Cry of the Deer:
I arise to-day
Through the strength of heaven:
Light of sun,
Radiance of moon,
Splendour of fire,
Speed of lightning,
Swiftness of wind,
Depth of sea,
Stability of earth,
Firmness of rock.***
In upcoming blogs, I plan to talk about groups, and in particular women in meetings. Follow this blog, for more on these vital topics.
Refs:
* How Culhwch won Olwen, The Mabinogion, translation by Jeffrey Gantz
** Song of Summer, in Selections from Ancient Irish Poetry, translation by Kuno Meyer
*** Extract from The Cry of the Deer, Selections from Ancient Irish Poetry, as above
Rachel O'Leary
Studying history at college didn't bring the answers Rachel needed to the big questions: how did we get into this mess and how do we get out of it? Parenting looked like a more productive area, so Rachel works to transform mothering with active listening and support. With colleagues who've become dear friends, she founded a local charity to support breastfeeding. Hearing stories told live for the first time, Rachel discovered that storytelling as an art is thriving. She loves to tell fairy tales and myths for groups of adults or children, especially tales of feisty females and caring boys. She is writing The Storytellers Trilogy of historical novels to help women save the world. Or is it because Hilda the bard in the books will keep nudging her in the ribs, telling her to get on with it? The Swan-Bone Flute is Book One.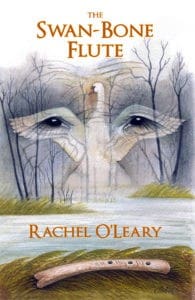 More details of The Swan-Bone Flute here
You can join Rachel's mailing list here
(All photos on this page Rachel O'Leary. This is the land of The Swan-Bone Flute — still visible in wild places.)