A new book about how we are altering our access to water, Water in Plain Sight by Judith D Schwartz reviewed.
By Kt Shepherd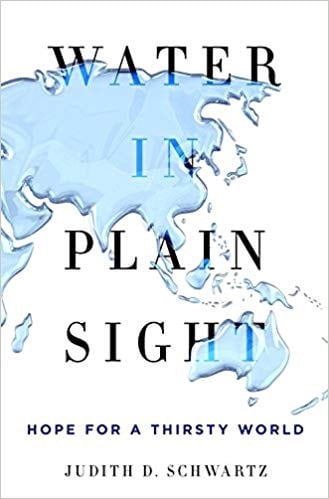 Water in Plain Sight
Judith D. Schwartz
St Martin's Press July 2016
 
Water in Plain Sight is another engaging informative work from Judith D Schwartz. It furthers many of the issues she explored in her 2013 book Cows Save The Planet, alongside discussing some very timely new topics.
 
In Water in Plain Sight we learn many disturbing and essential to understand accounts about how our global history of violence towards our planet, in the form of agricultural practices, hunting and deforestation are drastically altering access to water. Then contributing to the destruction of our land and communities via political turbulence, discrimination, conflict and suffering on massive scales.
 
Judith takes us on a journey around the globe, Zimbabwe, Mexico, California, Ohio, Texas, Western Australia and introduces us to a wonderfully diverse group of people who are demonstrating some amazing ways of how they are re-engaging with the natural cycles of water, particularly in slowing water cycles down. In turn these scientists, farmers and caretakers of land tell the stories of soil, water and community regeneration through their practices.
 
The most powerful message I gained from Judith's book though, is that drought is due to how soil holds and moves water, rather than a lack of rainfall, and that this flow and cycle is crucial to take into account in combating climate change.
 
Schwartz's writing style as an Investigative Journalist, as in Cows Save The Planet, cleverly connects a huge amount of widely researched material which links the personal and the political. She ensures that the messages in her work are accessible to all of us, regardless of how much we already know about global water/drought subjects.
 
Reading and then rereading Schwartz's work has again given me inspiration to make some very real positive changes in our communities and lands. I can recommend it to all. Water in Plain Sight provides us with motivation and hope, in the form of a whole global toolbox of solutions to actively heal our planet with.