Need some ideas for homemade herbal tea?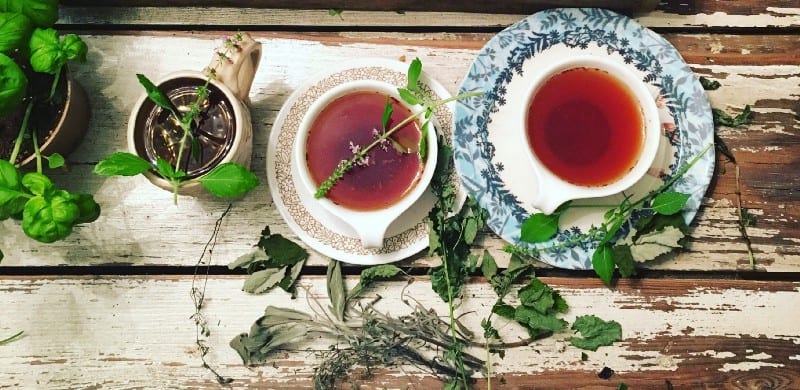 Cold Infusions can be made by steeping fresh herbs in cold water for an hour or more. Hot infusions are soothing, warming and comforting during winter months. Herbs can be steeped for 5–10 minutes to extract the active constituents and the medicinal benefits from the herb. Leaves and flowers require less time to steep than roots and bark.
Try the following herbs when you are feeling under the weather.
Cold and Flu Support
Ginger
Cinnamon
Turmeric
Garlic
Echinacea Root
Burdock Root
Dandelion Root
Slippery Elm Bark (ethically harvested)
Licorice Root
Pau d' Arco Bark
New England Aster Flower
Chamomile Flowers
Nettle Leaf
Reishi Mushroom
Red Clover Blossoms
Calendula Flower Petals
Thyme Leaf
Oregano Leaf
Sage Leaf
Rosemary Leaf
Cloves
Cinnamon Bark
Mullein Leaf
Ginger Root
Peppermint Leaf
Lavender Flowers
Tulsi
Immune Support
Cayenne
Ginger root
Garlic
Echinacea
Goldenseal
Astragalus
Oregon Grape extract
Pau d' Arco Bark
Reishi Mushroom
Elderberry
red clover blossoms
nettle leaf
sage leaf
St. John's wort
Natural Stress Relief

Skullcap
Oatstraw
Chamomile
St. John's Wort
Motherwort
Peppermint
Lavender
Tulsi
Women's Support
Red Clover Blossoms
Stinging Nettles
Red Raspberry Leaf
Skullcap
Oatstraw
Chamomile
St. Johns Wort
Motherwort
Floral energy
Roselle, red clover flowers, calendula flowers, chrysanthemum flowers, Echinacea petals, rose hips, lemon balm, red raspberry leaf, nettles
Digestion
ginger root, TULSI, peppermint leaf, basil leaf, and chamomile flowers
Rest and relax
chamomile and valerian root
Stress relief
kava kava, chamomile flowers, spearmint, passionflower herb, rose petals, lavender flowers and cinnamon bark

Headache relief
peppermint leaves and lavender flowers
Crystal Stevens is an Author, an Artist/Art Teacher, a Folk Herbalist, a Regenerative Farmer, and a Permaculturist. Crystal is the author of Grow Create Inspire and Worms at Work, published by New Society Publishers. Crystal speaks at conferences and Mother Earth News Fairs across the U.S.. She has been teaching a Resilient Living workshop series for over a decade. She is the Garden Manager at EarthDance Organic Farm School in Ferguson, MO, where her husband, Eric Stevens, is the Farm Manager. They have two children and live along the rolling hills of the Mississippi River near St. Louis. Visit them at www.growcreateinspire.com, on social media @growcreateinspire and @earthdancefarms