by Sue Kusch, Writer & Grower at Sleepyhollowhomestead.com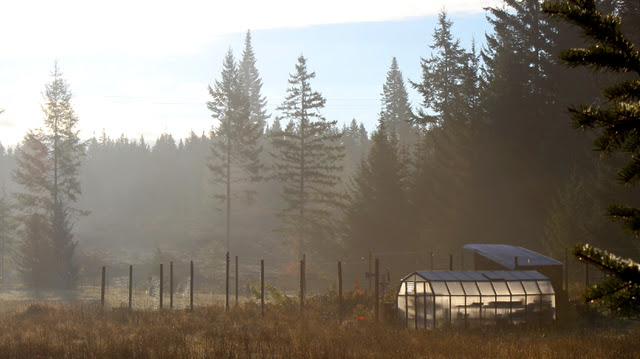 Our cell phones have more plans than our actual lives.
~ John Rodel, Writer
When I enrolled in the Permaculture Women's Guild Permaculture Design Certificate program (PDC), I had just turned 60. I debated back and forth about investing in the program. Did I really need a certificate? What would be the benefits? I already lived a homesteading life, worked from care-based ethics, and had many permaculture principles in place. But I was intrigued by the idea of applying permaculture thinking to other aspects of my life.
During the last two years, I have witnessed the rapid decline of my elderly parents. In their 80s, they continue to live alone on ⅓ of an acre that they can no longer tend. They both have limited mobility and spend most of their days in reclining chairs. Cooking is done in stages so that my mother can sit down to rest her aching legs. They use a motorized cart to get their mail and to shop. They live in a small suburb with no public transportation and continue to drive themselves to their medical appointments and shopping.
They spend their days worrying about the weeds in their yard, the fence that needs repair, the many boxes of stuff accumulated over a lifetime that need to be donated, and the drip under the sink that neither of them is physically able to fix. Their income is limited and they don't have the money to pay for the work they used to do themselves. They live in the Sonoran desert and the record high temperatures have kept them confined and worrying about the increase in their electric bill. Both use walkers to move around in the house so the last time I visited, I measured the width of their two bathroom doors – neither would accommodate a wheelchair.
Most of their friends have passed away and they are alone (though together) 99% of the time. The television, shopping trips, and their medical appointments are the only contacts they have with the outside world. They have two dogs and a cat and are worried about where they will end up when they die. They don't complain much but there is a sense of sadness in their voices even when they joke about never planning to live this long.
My efforts to convince them to consider a move into assisted living have been mostly ignored. At first, I focused on my concerns about their limitations and safety. Then I tried to sell the benefits of living in a staffed group setting: medical assistance, cooked meals, social interactions, transportation, and relief from demands of land ownership. When I asked them how long they thought they could live on their own, they shrugged their shoulders.
At that point, I realized they didn't have a plan for the last stage of their lives. They hadn't spent time thinking, much less discussing, what aging might physically and emotionally look like. They hadn't thought about aging on ⅓ of an acre and have refused to consider the possibility of living in an assisted living scenario. Both continue to tell me that they plan to die living in their home. But statistically, few people die in their homes. As their daughter who lives 1800 miles away, I have experienced despair, concern, and frustration with their lack of a plan.
I contacted a senior lifestyle advisor who stated that my parents represented the norm rather than the exception. He explained that many affluent seniors planned their immediate retirements in great detail; fulfilling long-held dreams of travel, recreation, and relaxation but often failed to plan for the elderly stages of their lives. And end-of-life planning is still the exception: Despite elderly Americans now living into their 80s and beyond, less than 30% had completed an advanced medical directive that would provide guidance on their end-of-life care.
During this same period, I realized that I, too, didn't have a plan in place for my elderly years. When I moved onto my homestead eleven years ago, I believed this would be my last home, much like my parents believed that they will die in their current residence. But I know firsthand that life plans can change overnight with the death of a spouse, the end of a relationship, a life-altering diagnosis, a major financial setback, or a natural disaster. An aging body may not be able to keep up with a productive homestead and sometimes, our interests change.
Aging in Place Reflection
As part of my PDC project, I added an aging-in-place assessment that included a brief reflection of how I want to spend the last 25 years of my life. In the US, aging in place is primarily considered from a residential perspective: adapting your home for various kinds of reduced abilities. In my research, I found nothing about maintaining the activities of a homestead, nor the caretaking responsibilities of land ownership as an elder.
During the past year of the global lockdown and pandemic, I was thankful for living a homesteading life but in my gloomiest moments, I reflected on whether I wanted to continue a lifestyle that revolved around the intensive work of growing, harvesting, and processing large quantities of food and herbal medicine for six months each year. In addition, my homestead is heavily forested and I now live with the threat of forest fire each year so I spend many hours cutting, chipping, and dragging the overgrown brush, dead tree limbs, and spindly trees to burn piles. I also noticed some resentment building up; as much as I love growing food I was frustrated that I wasn't doing other activities that also bring me joy. And then in one of those moments of synchronicity, my body struggled this past year with aging-associated health conditions and chronic pain. It was the first time I felt physically restricted.
I need to acknowledge that this is a privileged place to reflect from and the majority of women on this planet have few options and opportunities for controlling and adapting their lifestyles. I don't have much power to change that reality except to look around locally for opportunities to share the abundance of a permaculture lifestyle.
Using a Permaculture Design Process
I am now thinking long-term about this next stage in my life. I needed a plan and so I decided to utilize the permaculture design process, GOBRADIME, to create a plan for my elderly years. Heather Jo Flores describes the benefits of this process:
A permaculture design process clarifies our goals and ideas, gets them on paper, and provides a road map for implementation. A carefully thought-out, written design saves time and money, prevents mistakes, and helps communicate ideas to others. It is much easier to correct mistakes on paper than on land. Of course, your long-term needs and goals will change, and a good design leaves plenty of room for those changes. (Design Anything with the GOBRADIME Permaculture Design Process)
G – Goals
What is the problem? What are my goals for the last part of my life? How do I want to spend my days? In what ways can I alter my life while continuing my commitment to the ethics and principles of permaculture?
O – Observation
What observations about my aging body and homestead work have I witnessed? What emotions am I experiencing about aging? How is my aging affecting my permaculture lifestyle?
B – Boundaries
What are my visible and invisible boundaries? What systems are in place to support my aging? How do they impact my plan? What cultural, political, and economic boundaries will influence my design plan for aging?
R – Resources
What resources do I have to implement my plan? How will money, energy, and community impact my plan? 
A – Analysis
Given the information I have gathered, what are the best option(s) for addressing my concerns and creating a plan? What information is missing? Have I addressed potential issues? What are the most challenging aspects of aging?
D – Design
What does my aging plan of action look like? What's the timeline and are there phases of gradual change or one drastic change? Are both physical and psychological impacts considered? Does it include an end-of-life plan?
I – Implement
What specific tasks are outlined to carry out my aging plan of action? What kind of support will I need from family, friends, and my community?
M – Maintenance
Once the plan is implemented, what adjustments and changes are needed to maintain the design? Do I have an end-of-life care plan? 
E – Evaluation
End-of-life aging can often be a rapid process of decline. How well will my aging plan of action serve this reality? What adjustments do I need to make?
Options for Elderly Living
A plan for growing old begins with a long-term vision, based on both needs and goals, and a healthy dose of reality. Many variables come into play and flexibility and regular analyses are key to supporting the plan.
Designing a plan for aging is as individualistic as designing a garden: that's why we spend so much time observing and analyzing all of the potential influences and factors. One size does not fit all. This list of options is meant to represent a starting point for discussion and our plans may include multiple options as we age. The most important part of this design is the processes of planning and regular evaluation.
Aging in Place
In poll after poll, the majority of elderly Americans indicate they want to stay in their homes as they age. They may or may not have considered the often-real scenarios of aging:
Becoming physically disabled
Various levels of dementia
Loss of control of bodily functions like urination and bowel movements
Pain and medication management
Maintaining optimal nutrition and movement levels
Financial limitations
Availability of community resources like healthcare, social services, and transportation
Availability and affordability of home health care
Loss of social connections
Aging in place is far more complicated than installing grab bars in the shower and widening doorways for wheelchair access. During the last stage of our lives, most of us need help. Caretaking is often done by a partner or adult children. Hiring private, full-time caretakers and nurses might be ideal but can be expensive.
Aging on a homestead presents additional challenges as the maintenance of gardens, livestock, land, and buildings will either be ignored, completed by hiring helpers, or eliminated. Another important consideration, especially in rural areas, is the availability of healthcare, social services, and community resources. In my rural village, most specialized healthcare requires a one to two-hour drive. There is no senior center or community center where elders can socialize.
Share & Care
One way to age on your homestead is to consider inviting people to share your abundance in exchange for caregiving. Younger people who can't afford land yet might consider moving onto your homestead, taking over the more arduous tasks as well as providing some basic caregiving. This kind of arrangement is best suited for an elder who does not need professional medical care and more importantly, welcomes the opportunity to mentor people interested in living a permaculture lifestyle. This arrangement is more complicated as it is an exchange of labor for shelter, nourishment, and knowledge. Clear communication about tasks, expectations, timelines, and long-term decision making as well as any potential legal issues are critical to the success. For those with relatives who are interested in a self-reliant lifestyle, an arrangement could be a win-win for all sides.
Co-housing
Co-housing is an increasingly popular lifestyle and it seems that each co-housing community has its own flavor. Co-housing is defined as: Cohousing is a community designed to foster connection. Physical spaces allow neighbors to easily interact with others just outside private homes. Common areas including a kitchen, dining space, and gardens bring people together. Because co-housing often requires the purchase of a home within the community, it may not be an affordable option for many people.
A friend of mine made the decision to sell her suburban single-family home and move into a co-housing condo development in an urban center. This decision was based on her goals, needs, and current reality. Her husband was terminally ill, she had no children or relatives she wanted to live with and as a psychologist, she understood the importance of belonging to a community for aging people. After two years of full-time caretaking for her dying husband during the COVID pandemic with limited opportunities to engage with people, she recognized that her desire for community interactions and cultural activities were her primary goals for her aging plan. She exchanged her suburban garden for shopping at the city's farmer's market and is currently working with her co-housing community to establish a rooftop garden, utilizing permaculture design principles. Co-housing is not set up for medical assisted living but the option of incorporating professional home health care while living in a caring community might allow an elder to live in their familiar setting while aging.
Group Homes
Created as an alternative to the institutional setting of nursing homes, group homes, often called senior foster homes, are privately owned, operated, and licensed (in the US) as a caregiving business. Large homes are set up to care for a small number of elderly residents who may need various levels of 24/7 professional care. These homes are often located in urban settings and may be limited in the kind of care they provide.
Senior Living Facilities
The concept of old age homes has evolved over the last few decades into living centers that allow residents to transition within one facility as their health and mobility change. Residents can maintain independent living in a small apartment while benefiting from cooked meals and social activities. As physical and mental wellness change, various levels of care (referred to as assisted living) are available as needed: from personal care to medication management to nursing care. Some of the facilities have added a memory ward that cares for residents living with dementia. In the US, these facilities range in both quality and affordability.
Living with Family
For some elderly people, moving in with an adult child or family member is an affordable way to have both housing and caretaking. For many centuries and cultures, this was the traditional model for families: caring for our elders was the responsibility of the nuclear family and their surrounding communities. As families are separated by long-distance moves, elders (like my own parents) are isolated from their children. In addition, many adults in Western cultures are employed outside of the home. Research indicates that this option can be stressful for families and especially for women: the majority of family caretakers are women who are employed while also caring for an elder.
End-of-Life Planning
This is the most difficult part of our lives to plan. Some of us will have the natural experience of dying peacefully in our sleep, perhaps in our homes. But in Western cultures, the reality is that our affluence allows us the ability to live longer lives because of our access to technology and pharmaceutical drugs. Many Americans enter the emergency room with a life-threatening event and never return to their homes because they require daily medical care after surviving their health trauma. As part of our planning and decision-making, we should ask the question, "What does dying look like from my current plan?"
Like our gardens, our plans may be affected by nature's whims and likely require an evaluation and a new plan. There is also the human ability to ignore reality and the possibility. My parents' insistence on staying in their home has resulted in a future where they no longer are in charge of their decision-making. Their refusal to consider their options may result in living apart during their final years.
Postscript:
In a sad bit of irony, I am writing part of this article 1800 miles away from my home, awaiting a call from my stepfather about the current status of my mother who has had multiple strokes, lost the use of her right leg and arm, and is in renal failure. Meanwhile, my stepfather is trying to function in this new space absent my mother. She is the organizer, the doer and manages all aspects of their lives. His own health problems have contributed to another layer of concern.
My family is in limbo with so many unanswered and troubling questions:
Will my mother return home and be able to continue to live on her own?
If my mother can't, where will she go? Will it be hospice or rehabilitation?
Where will my stepfather live? Can they live together?
If not, can my stepfather live on his own?
I see the enormous fear in their eyes and know these questions are haunting them. Quietly, I ruminate over their lack of a plan, especially given their decade of rapidly declining health.