Klaudia van Gool teaches permaculture design (33 PDCs to date) and facilitates the design process for groups and individuals. She has a particular passion for People Care and personal observation skills.
She incorporate deep nature connection skills, culture repair elements and practices of ceremony into her work, which has taken her to a variety of countries, including Lebanon, Palestine, Italy and Estonia. She has co-taught with Looby MacNamara on the first People Care courses in the UK and she runs social design workshops and provides design coaching.
She is a facilitator of Eco-constellations, The Work That Reconnects and Active Hope, bringing connection with self, others and nature through personal resilience and strength.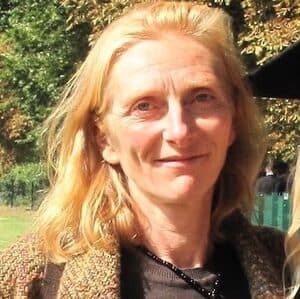 Klaudia has been involved with the 8 Shields Institute through the Art of mentoring since 2011 as a participant and facilitator, which has been a deeply inspirational and effective source of culture repair and connection. It provides her with a lot of answers to the questions of how we do Permanent Culture. Since 2013 she has been studying indigenous, connected leadership skills based on a particular Lakota lineage, also associated with the 8 Shields organisation.
She has run overnight deep nature connection and personal resilience experiences for girls and longer wild retreats for women. She is interested in wild foods & medicines, healing, gardening and ceremony. She loves teaching about wild plants and fire, to name but two, to bring connection.
​She considers herself a collector and user of the most effective tools for change I have found, to support individuals and groups to be the most effective supporters of life on this Earth.