Hannah Thorogood is a British permaculture farmer, designer, teacher and parent. She did her own PDC in 2003 – in New Zealand with Joe Polaischer, who learnt from Bill Mollison. She has designed a full range of systems all over the world, from small scale mobile living systems up to large scale farms, from business plans to organisational structures. She has coordinated a number of permaculture events from small scale regional ones to a number of National British Permaculture convergences and in 2015 co-coordinated the International Permaculture Convergence in London.
She gained her Diploma in Applied Permaculture Design in 2005 and has since then been an active tutor in our Diploma system, and is a senior assessment tutor and trains the tutors in the system. So you could say she is a bit of a design geek!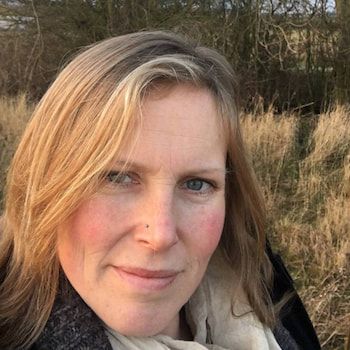 Hannah also runs her own 23 acre permaculture farm the Inkpot, and is a single parent. So not only does she have a fair amount experience of permaculture design, but she also knows what it is to balance a very busy life with many demands on her time. She manages most of the time to have many spinning plates, as they say in Britain, and rarely drops one due to careful implementation and system maintenance planning.
Here at the Inkpot in Lincolnshire, England, Hannah has many different enterprises running high welfare animals, courses, events, teaching, design tutoring, mentoring, writing and even burying the dead, as she does some work as a humanist funeral celebrant. This is alongside being a single mum and being the main farmer there. Silly? Yes! Recommendable? Not always, but her life is the result of a lot of design and she loves it. She has many different passions and would get bored and frustrated doing one single thing. She gets a great balance of working with nature and animals, and being out in the elements, but also gets a strong connection with people and gets to use her brain a fair bit too.
One of her favourite things is to work one-to-one with folks on their designs or their physical projects to help them to achieve what they would like to. She does a lot of this work remotely via online video calls.
She'd like to offer anyone doing this course the first 20 minutes free of an hour 1:1 tutorial with her. She has tutored designers through all sorts of design applications so she feels confident that she can unstick or clarify any design process with you.
However she also has a wide range of practical hands on permaculture experience from setting up veg beds, to running farms and working with animals, designing poly incomes to coordinating events, teaching teachers and building compost loos.
So if you feel like you would like some input on a design or project you are working on, drop her an email and we can find a time slot that works for both of you.
​If you're interested in the produce of The Inkpot or coming on a course or event, check out their website The-inkpot.com. They have a calendar of events with something for everyone. For the non vegans, they have very high welfare, regenerative, organic, pasture for life sheep and cows, turkeys, hens and bees. They can send their wool anywhere in the world and the meat to anywhere in Great Britain (it's possible to get it out to most of Europe but the postage costs can be very expensive!).
Hannah Thorogood – BSc Hons Environmental Studies, MSc Organic Farming, Dip Perm Des. Email: Hannah_thorogood@hotmail.com