I've been working with faith-institutions since 2011 to repurpose vacant institutional land into edible gardens and orchards to foster healthy, water-wise environments throughout Los Angeles by providing seed capital, technical assistance, and garden design to grow gardens on underused land. The goal is to mitigate long-standing inequities in food access. I'm particularly focused on expanding access to land, skills, and resources to grow community resilience, reduce water usage, and compost waste. The gardens pictured here serve to improve food sovereignty and vegetate a wasted resource with native habitat; improve soil; allow water to permeate and replenish the groundwater supply; reduce the heat index by providing shade; beautify the streetscape, and provide space for community gatherings.
Food Justice is not about putting food in the hands of people who need it – that is food relief. Food justice movements ask us to recognize how the broken food system disproportionately affects frontline and impacted communities by design as a result of larger structural inequities: unjust wealth distribution caused by low wages, tax loopholes, and cuts to safety net funding.
Food justice involves engaging in advocacy work to foster systemic change in injustice to farmers, laborers, and/or consumers. Food Justice explores the root causes (inequality) versus symptoms (poverty that leads to the need for soup kitchens). Food sovereignty rejects the proposition that food is just another commodity for international agribusiness. Instead, it puts providers and consumers at the center of decision-making. This people-centered approach is deeply rooted in local production, based on the principal rights of farmers to produce the quantity and quality of food that they need to secure their livelihoods and those of future generations.
In LA, over 400 organizations collaborate under the banner of the LA Food Policy Council. From their website: "We help all communities access good food, grown in a way that respects people and the planet. The mission is to create a local urban food system free from hunger, rooted in equity and access, supportive of farmers and food workers, and guided by principles of environmental stewardship and regeneration. Healthy food is essential for a healthy life. But some communities have it, and some don't."
On Skidrow in Los Angeles, we gathered a community of volunteers to expand food equity in the heart of a food desert. We installed a permaculture foodscape of eight raised beds on a rooftop garden that temporarily shelters houseless people.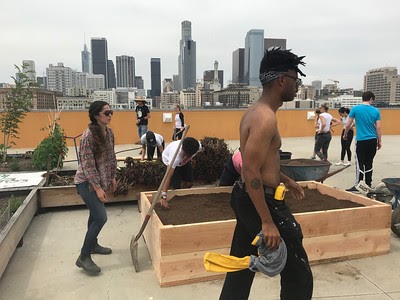 Since one-in-six Angelenos is battling food insecurity. Low-income neighborhoods and communities of color in LA generally have 2-3 times less options when it comes to healthy food, compared to more affluent or white neighborhoods (U.S Economic Census; County Business Patterns, 2015). Historically, discriminatory practices in bank lending and urban development limited neighborhood resources for people of color, including home and business ownership. Some language commonly used to describe the impacts of racist capitalism:
Food Deserts – The term typically describes a neighborhood that lacks full-service grocery stores, but also often refers to a built environment that is generally sparse in fresh food options (restaurants, farmers' markets, etc.) and overwhelmed with high calorie, highly processed junk food and fast food.
Food swamps – the over-allocation of unhealthy food in a neighborhood
Food apartheid – the structural inequality of food available to affluent and white communities compared to low-income and communities of color
Food mirage – when healthy food options are present, but unaffordable or otherwise out of reach for low-income residents- a scenario seen at the nexus of new food retail and gentrification.
In Los Angeles, the projects at the sites listed below are just a few of those urban resilience gardens that I've installed or had the privilege of gardening at with this same goal: growing food to empower autonomy in frontline communities and reduce dependence on handouts.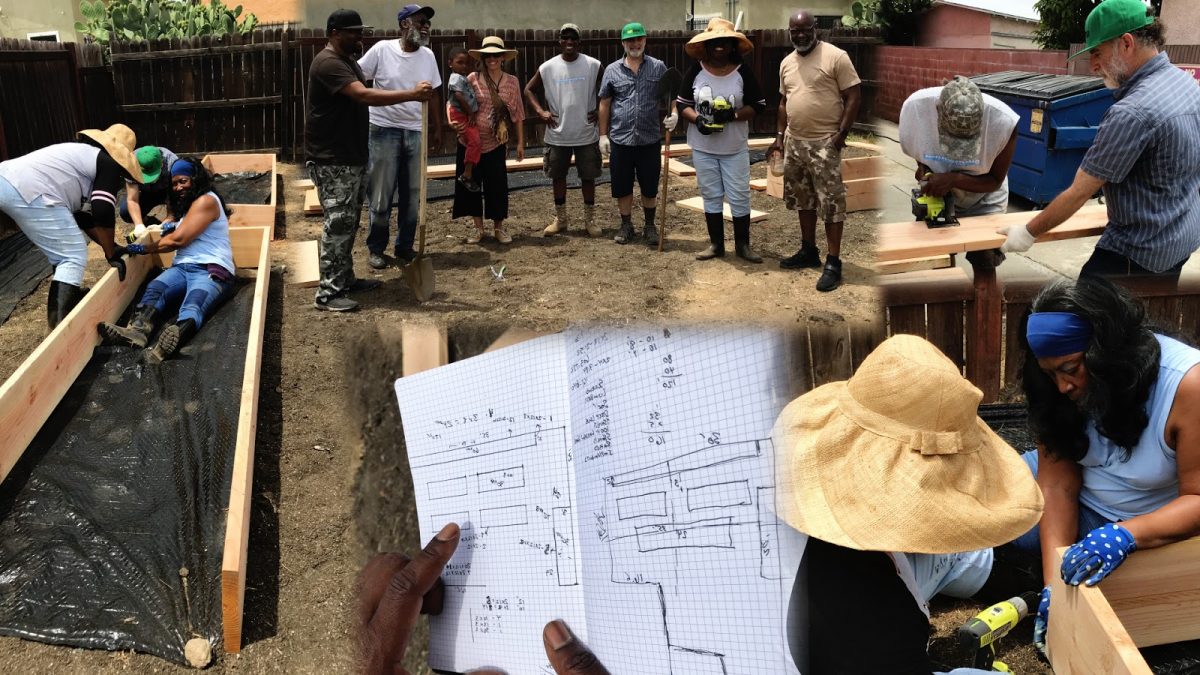 Urban Community Resilience Gardens in LA
Lincoln Memorial Congregational Church
St. Mark's United Methodist Church
Masjid Bilal Mosque
Emmanuel HM Turner AME Church
LA Community Action Network urban rooftop garden on Skidrow
Union Rescue Mission rooftop garden on Skidrow (Worthy of Love)
Shared Earth Project, Unitarian Universalist Church (short video)
After gardening at these urban sites, workshops are/were offered to transform garden-grown ingredients into food-as-medicine while attendees either teach or learn. Gardening workshops include preventative nutrition education, food waste / institutional composting, and film screenings on food and community food sovereignty. The aim is to focus on the importance of consuming culturally-relevant, affordable, and accessible crops through nutrition and cooking education. We study water-wise cultivation of specialty crops; how to grow, harvest and healthfully prepare fruits/vegetables/herbs, and how to incorporate fresh produce into more home-cooked meals. I'm endlessly inspired by the recipe of urban permaculture gardening & cooking to grow community food sovereignty and foster soul-care, earth-care, and community care.